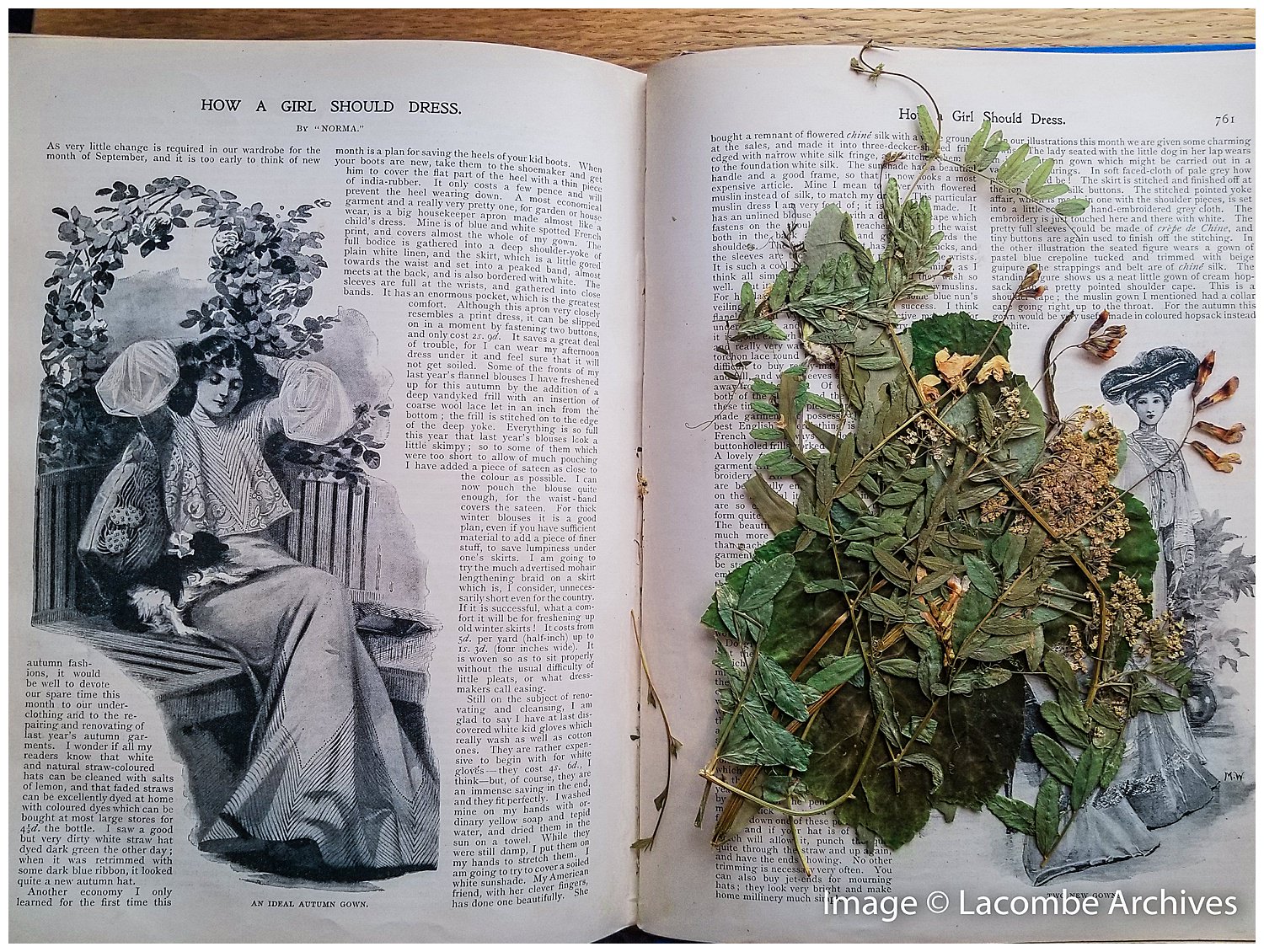 Behind the Scenes | The Herbarium Collection
Herbarium Specimens are a wealth of information on the natural history of any given region. Here at the Lacombe Museum & Archive, we have a small collection of such items from the Gull Lake area – but how we attained them is just as interesting!
Here is a small sneak into our Gull Lake Herbarium Collection, how we found it and how we worked to properly conserve it.
A special surprise from the past
As archivists and curators, we never know what to expect in the donations that come through the front doors. Over the past 50-years, we have collected and preserved some of the most unique and fragile items that share the story of our area here in Lacombe. When a set of hard-bound editions of The Girls Own Paper came to us from a family home being cleaned out in Gull Lake, imagine our surprise while flipping through the pages to discover these treasures.

Conservation Challenges
Removing these fragile specimens from the pages of the books proved to be a challenge without causing any damage to them. Traditional tools like conservation spatulas and tweezers were too rigid for the task. Our team had to be extremely patient, and with steady hands (and holding our breath!) slide 1 sheet of herbarium paper along the edge of each page, underneath the fragile florals and delicately scrape them off and onto another pristine sheet that was waiting for them to be their new permanent home.
As part of our Storage Policy, each specimen is laid on a single sheet of herbarium paper, in a polyethylene casing, which has a label affixed to it – then sealed in a polyethylene bag to make sure nothing can damage the specimens over time (this is in practice with our Integrated Pest Management Plan, as a variety of pests love the pollen and seeds, even in dried and pressed flora!)
More Finds
It didn't take long for the team to start looking through the other editions, finding more pressed plants, including both a corsage and bouquet, hand-drawn Easter Cards, Canadian Red Cross membership cards, prayer cards, polaroids and more! With thousands of pages to go through, we are sure there are more treasures tucked away in these books waiting for us to find. Watch this BTS video of the accessioning process.

Supplies used from Carr McLean included: Herbarium Mounting Paper; Herbarium Specimen Sheet Protectors; Ziplock Polyethylene Bags; Acid-free Labels; Archival Pen.
Written by Melissa Blunden,
Executive Director and Curator, Lacombe & District Historical Society.
https://lacombemuseum.com/wp-content/uploads/2021/05/Lacombe-Museum-Gull-Lake-Alberta-Flowers2.jpg
1130
1500
Melissa Blunden
https://lacombemuseum.com/wp-content/uploads/2021/03/logo-grey.svg
Melissa Blunden
2021-05-15 22:09:56
2023-02-15 09:18:32
Behind the Scenes | The Herbarium Collection