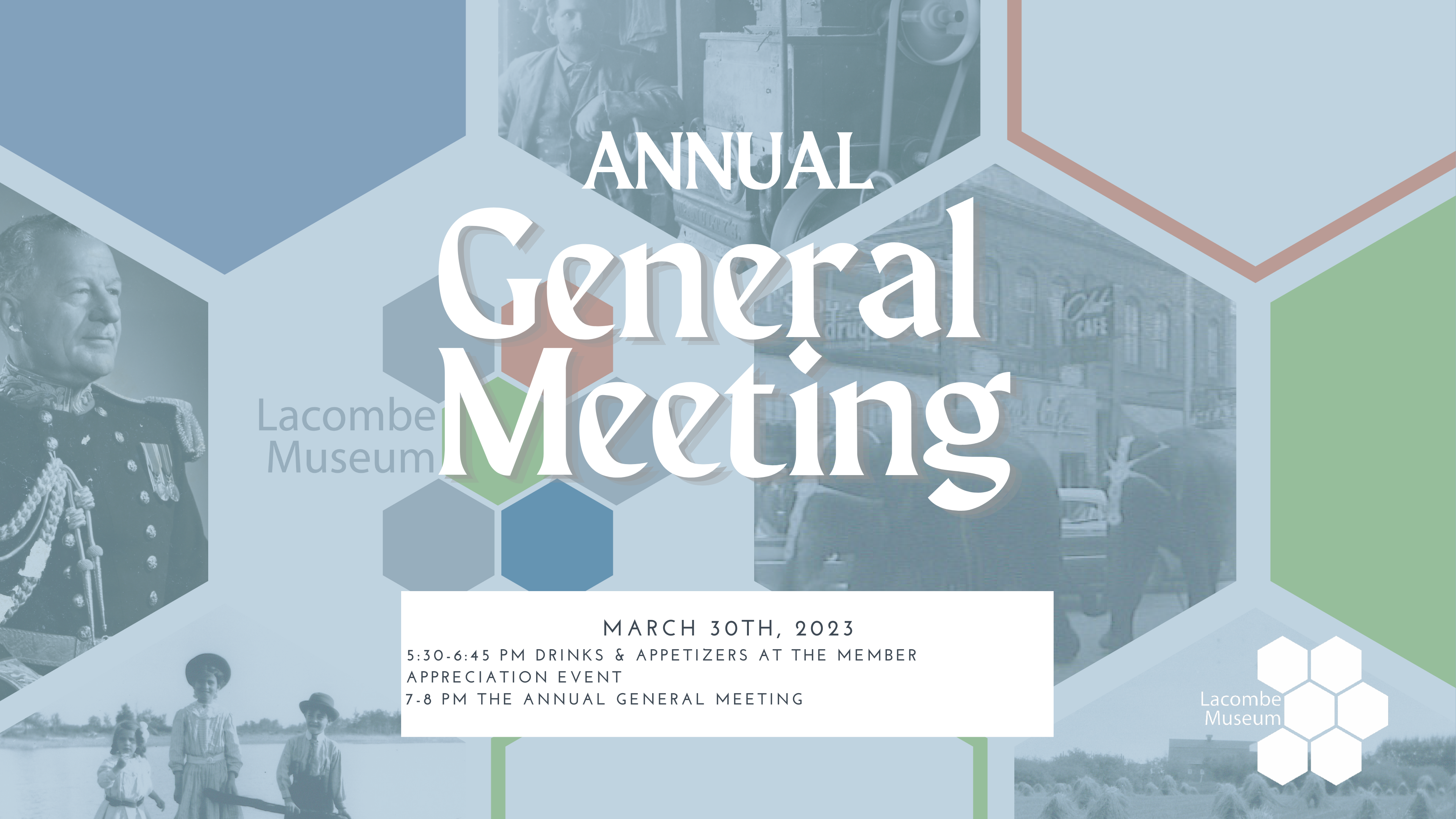 You're Invited to our Annual General Meeting 2023
As a valued Lacombe & District Historical Society (LDHS) member, you are invited to attend our Annual General Meeting on March 30th, 2023 inside the Lacombe Performing Arts Centre (we are booked in the Shunda Theatre). Please plan to join us for networking, drinks, and appetizers at the Member Appreciation Event from 5:30-6:45 pm followed by the AGM from 7-8 pm.
If you cannot attend in person, you can sign into the AGM portion of the meeting virtually. Note that if there is more than one Lacombe Museum member in your household and you all wish to vote, you must register separately with unique email addresses.
About this years AGM
The theme of this year's AGM is: "Reimagining the Cultural Experiences in the Lacombe Region." This theme was chosen the celebrate the work LDHS accomplished in 2022 to reinvigorate the Historical Society in our communities (including a record-smashing year reaching over 10,000 visitors in person) and to continue our engaging and innovative work forward into 2023 and 2024.
We encourage you to attend the AGM to learn more about and celebrate our successful year of record growth where "Reimagining" has spurred a transformation underway to our operations, technologies, and services – all to improve the arts, culture, and heritage experiences in the Lacombe region.
Attendees will hear from our Board of Directors and Executive Director Melissa Blunden. Members will also have the opportunity to vote on proposed new bylaws, elect 3 new Board of Directors, and participate in a question and answer session with the Lacombe Museum Team.
Please RSVP in advance here: 
Please ensure your membership is up-to-date before arriving so you are able to vote at the AGM. Call 403-782-3933 or email info@lacombemuseum.com for membership inquiries