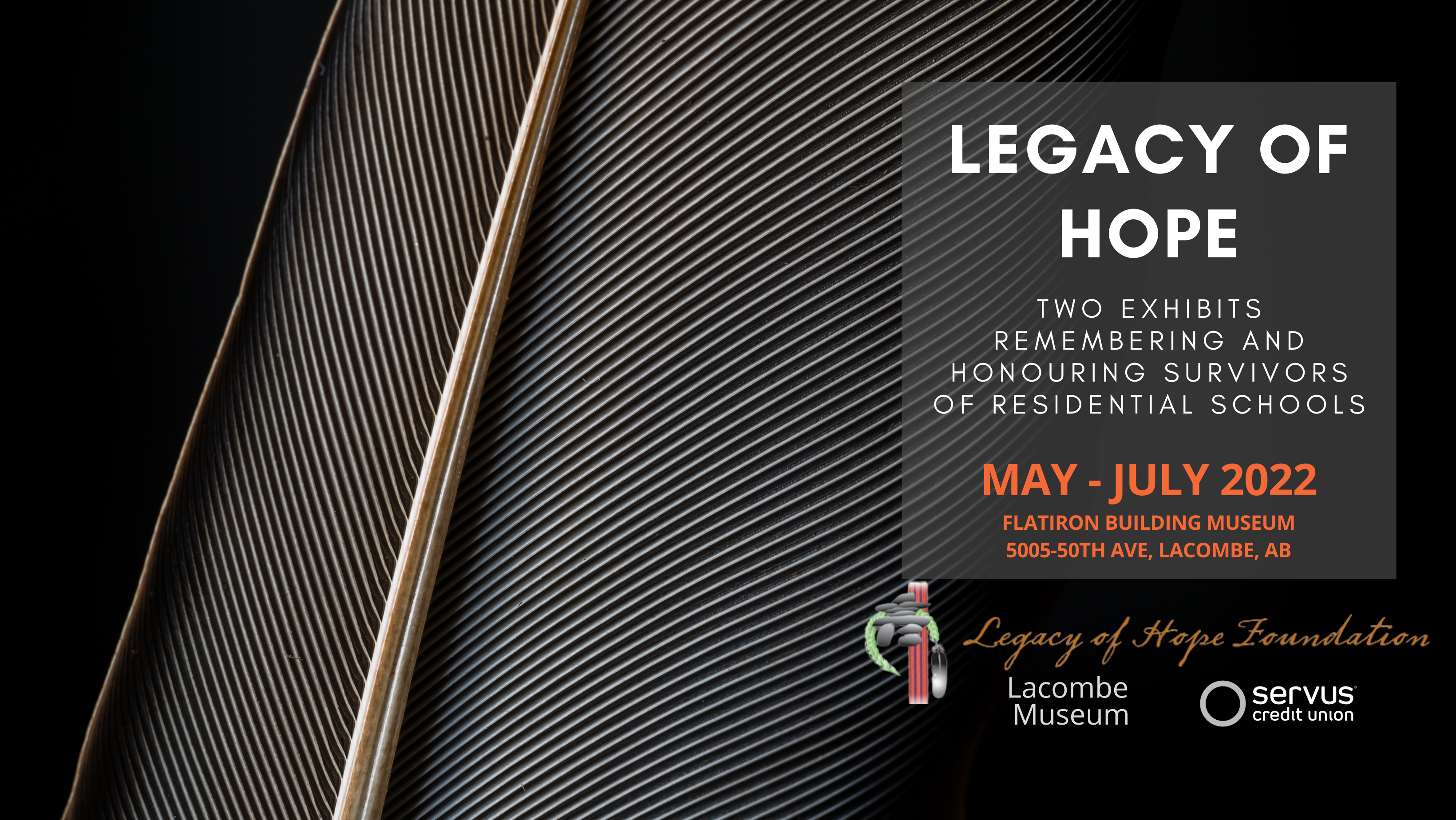 The Lacombe & District Historical Society & Lacombe Museum is honoured to partner with Servus Credit Union to bring two Legacy of Hope travelling exhibitions to Lacombe.
The Legacy of Hope Foundation (LHF) is a national Indigenous charitable organization with the mandate to educate and create awareness and understanding about the Residential School System. The LHF supports the ongoing healing process of Residential School Survivors and their families and seeks their input on projects that honour them.
This two-part exhibition will include:
Youth on Reconciliation – Imagine A Canada
Remembering, Honouring, and The Way Forward: 10 Years After the Indian Residential School Apology
"Imagine a Canada" is an annual national art and essay competition sponsored by the National Centre for Truth and Reconciliation in collaboration with Rideau Hall. It explores the concept of Reconciliation through artistic expression and what that means to youth in Canada by asking young people to share their thoughts on what the future of Canada can look like through the lens of hope, respect, and Reconciliation.
"Remembering, Honouring, and the Way Forward: 10 Years After the Residential School Apology." The exhibition was developed to be interactive and features a hand-crafted basket that holds messages of peace, hope, and Reconciliation from Canadians across Canada and from people worldwide.
To view the Statement of apology to former students of Indian Residential Schools Click Here
Warning:
The exhibitions deal with topics that may cause trauma.
Former Residential School students can call 1-866-925-4419 for emotional crisis referral services and information on other health supports from the Government of Canada.
Indigenous peoples across Canada can also go to The Hope for Wellness Help Line 24 hours a day, 7 days a week for counselling and crisis intervention. Call the toll-free Help Line at 1-855-242-3310 or connect to the online chat at hopeforwellness.ca.
Travelling exhibitions created by the Legacy of Hope Foundation.
May 6th-July 16th, 2022 at the Lacombe Flatiron Building Museum