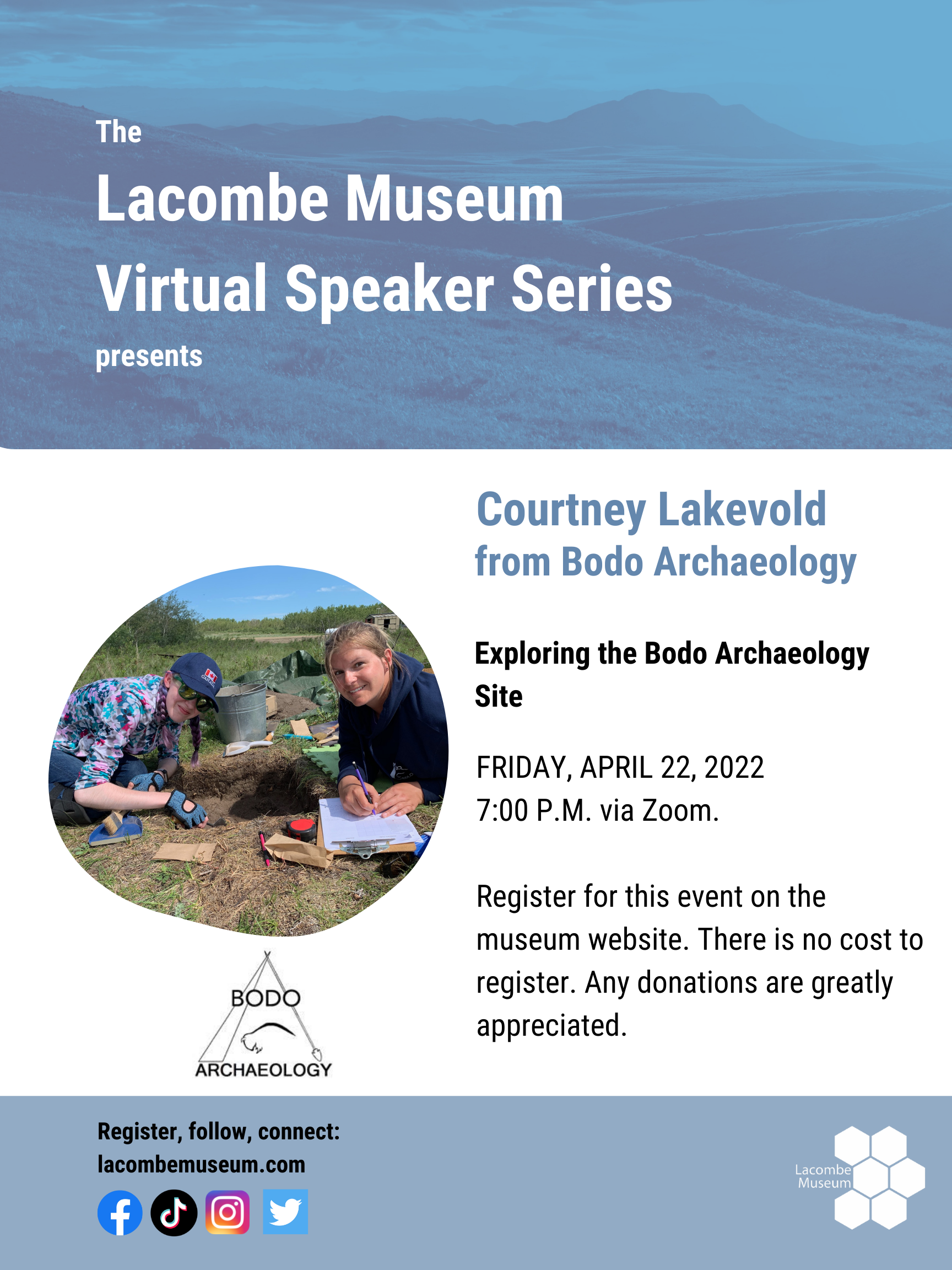 Join the museum for our speaker series that is bringing history to our schedule of events in Lacombe! Members of the Lacombe and District Historical Society will have the ability to request access to recordings of each speaker in this series. To learn more about membership click here.
**Please register for the event via the Zoom link**
Exploring the Bodo Archaeological Site
The Bodo Archaeological Site, located 35 km south of Provost, Alberta, is one of the largest and most well-preserved archaeological sites on the Northern Plains. The area was inhabited during the past 5000 years by Indigenous peoples who both hunted and camped in this unique area of stabilized sand dunes, where the grasslands meet the parklands of Alberta.  Millions of artifacts buried in the sand, including bison bones, stone hunting and butchering tools, clay pottery, and arrowheads, have provided a unique glimpse into a culture of hunting and living off the land that predominated the grasslands for over 10,000 years. The Bodo Archaeology Centre, located less than 2 kilometers from the site, is a one-of-a-kind regional public education facility and interpretive center equipped with classrooms, a working archaeology laboratory, interpretive exhibits, artifact displays, and hands-on activity stations. The programs at Bodo have been featured in Canadian Geographic, Travel Alberta YouTube stories, the National Post, Go East of Edmonton guide, Chicago Tribune, the Western Producer, Global News Edmonton, and two Alberta archaeology books – In Search of Ancient Alberta by Barbara Huck and Stone by Stone: Exploring Ancient Sites on the Canadian Plains by Liz Bryan.
In this talk, we will showcase the unique aspects of the Bodo Archaeological Site, share some of our most interesting finds and highlight the public programs that we offer.
Bio
The Bodo Archaeological Society (BAS), a local community-based non-profit organization incorporated in 2003, operates the Bodo Site & Centre by providing public archaeology opportunities and educational programs through heritage tourism and community engagement efforts. This long-running public archaeology program has welcomed visitors from all over Canada and the world and is one of the only places in North America where the public can participate in an active archaeological excavation.
Courtney Lakevold, the Programs Manager and Archaeologist for Bodo Archaeology, has a B.Sc. from the University of Lethbridge and a Master's degree from the University of Alberta. Courtney has been doing archaeology in Alberta for over 15 years and has experience in cultural resource management, government, and public outreach.