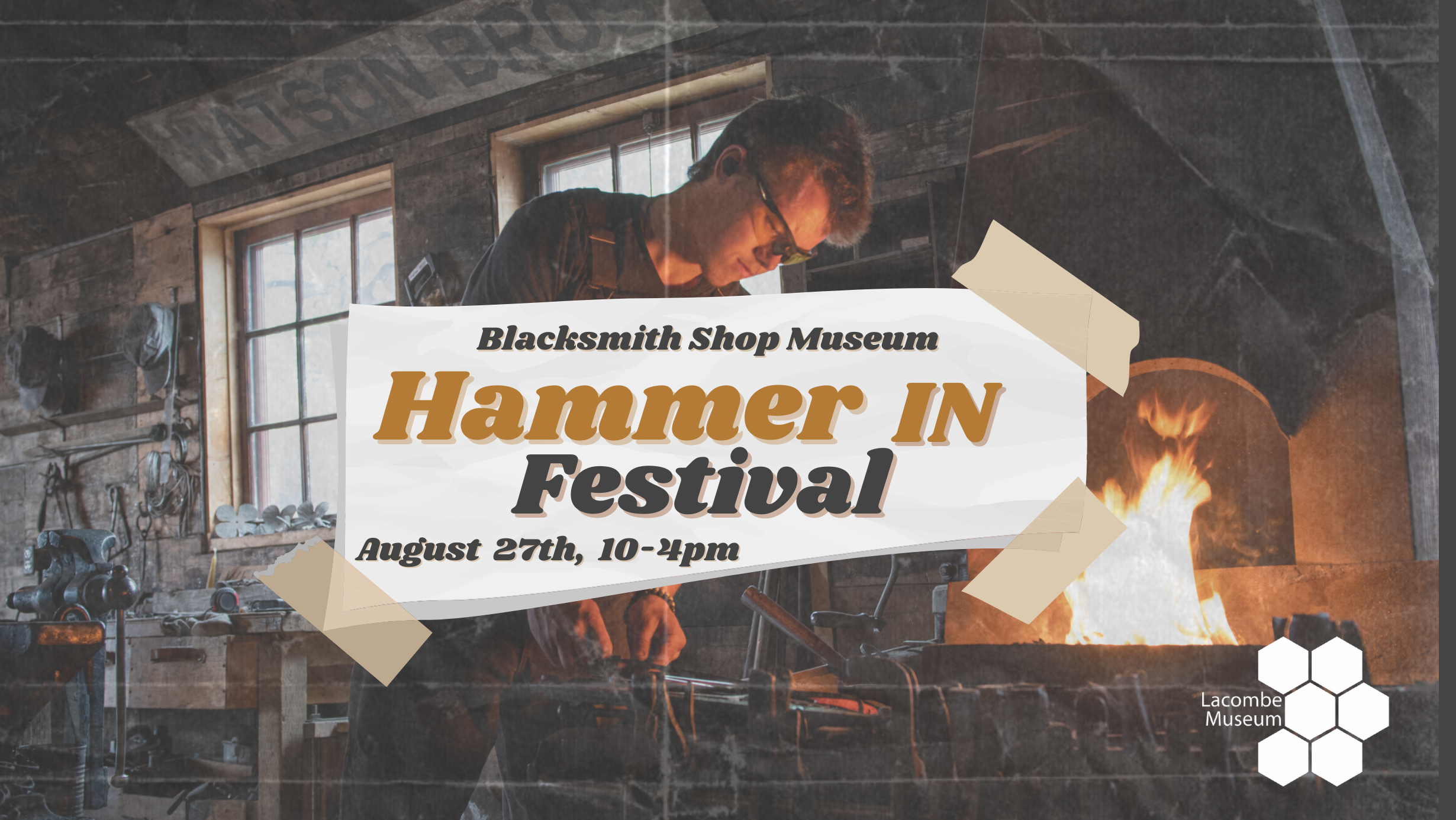 The Lacombe & District Historical Society is excited to invite you to join us for our annual Hammer-In Festival at the Lacombe Blacksmith Shop.
Important times to note for the Hammer In:
10:00: Hammer-In and Artisan Market Open
11:00: Triphammer demonstration inside of the Blacksmith Shop Museum
12:00: COOP BBQ until supplies last
12:50: Historic Downtown Walking Tour leaving from in front of Blacksmith Shop Museum for Michener House Museum
2:30: Triphammer demonstration inside of the Blacksmith Shop Museum
4:00: Hammer In and Artisan Market Close
Smithies from around Alberta will close the street to showcase their demonstrations and skills at the art of Blacksmithing on August 27th, 2022 from 10 am to 4 pm. This special event shows off the amazing skills of Alberta Blacksmiths at the site of our 1902 shop, and serves as one of the Lacombe Museum's most important fundraisers. Blindman Brewery will be on-site for the weekend, as well as an Alberta Farmers Market-approved Artisan Market.
Guided tours and blacksmith demonstrations by our heritage interpreters occur throughout the day in Alberta's oldest blacksmith shop.
**NEW**
For the first time in years, we are able to run our triphammers in the Blacksmith Shop Museum. At 11:00 AM and 2:30 PM, there will be triphammer demonstrations inside the shop.
The COOP BBQ will start at 12pm, until supplies run out.
Our downtown walking tour will take place in the afternoon. The tour guide will leave the Hammer-In at 12:50, to go to the Michener House Museum, and begin the tour from there.
Admission is free and refreshments are available for purchase. A family-friendly event, don't miss this opportunity to watch the past come alive! Join us for this amazing, behind-the-scenes historical experience!