Michener House Museum & Archives
Michener House Museum & Archives
Hours of Operation:
OPEN May 6 - September 2 2019, Friday to Tuesdays 10:00 am - 5:00 pm
OPEN Saturdays September 3 - April 30, or by appointment only
Location:
5036 - 51 Street (Alberta Street)
Lacombe, AB
Contact:
(403) 782-3933
The Museum
The Michener House Museum displays items from Roland Michener's personal and family collections, furnishings from the turn of the century, the original pump organ from Grace Methodist Church, in addition to the bed that Roland Michener was born in.
The Archives
The Archives preserve the Michener legacy as well as documents, photographs, and artifacts significant to the Lacombe region and its history. The documents and photographs are accessible to the public by appointment. Digital high resolution copies of archival photographs can be obtained with a $10.00 donation.
Please contact the office for more information at archives@lacombemuseum.com
---
The Michener House was built in 1894 as the Village of Lacombe Methodist Church Parsonage. Today it is historically significant as the birthplace of Right Honourable Roland Michener, former Governor General of Canada, and as the parsonage of his father, Edward. The house is also historically significant as one of the oldest remaining buildings in Lacombe, and illustrates the important first phase of the town's development. The Michener House is a modest example of typical turn-of-the-century frame building construction.
After the departure of the Michener family, the house passed to successive ministers, was expanded with an addition to the rear in 1918 and subsequently converted for use as a church hall. The church was also used as a hall after the congregation joined with that of St. Andrew's Presbyterian Church in Lacombe to form St. Andrew's United Church in 1922. In later years the church saw service as the Lacombe's Boy Scout Hall, and was finally demolished in 1984.
The Michener House was declared a Provincial Historic Site in 1977 and was restored to its original appearance prior to opening as the Michener House Museum in 1984.
---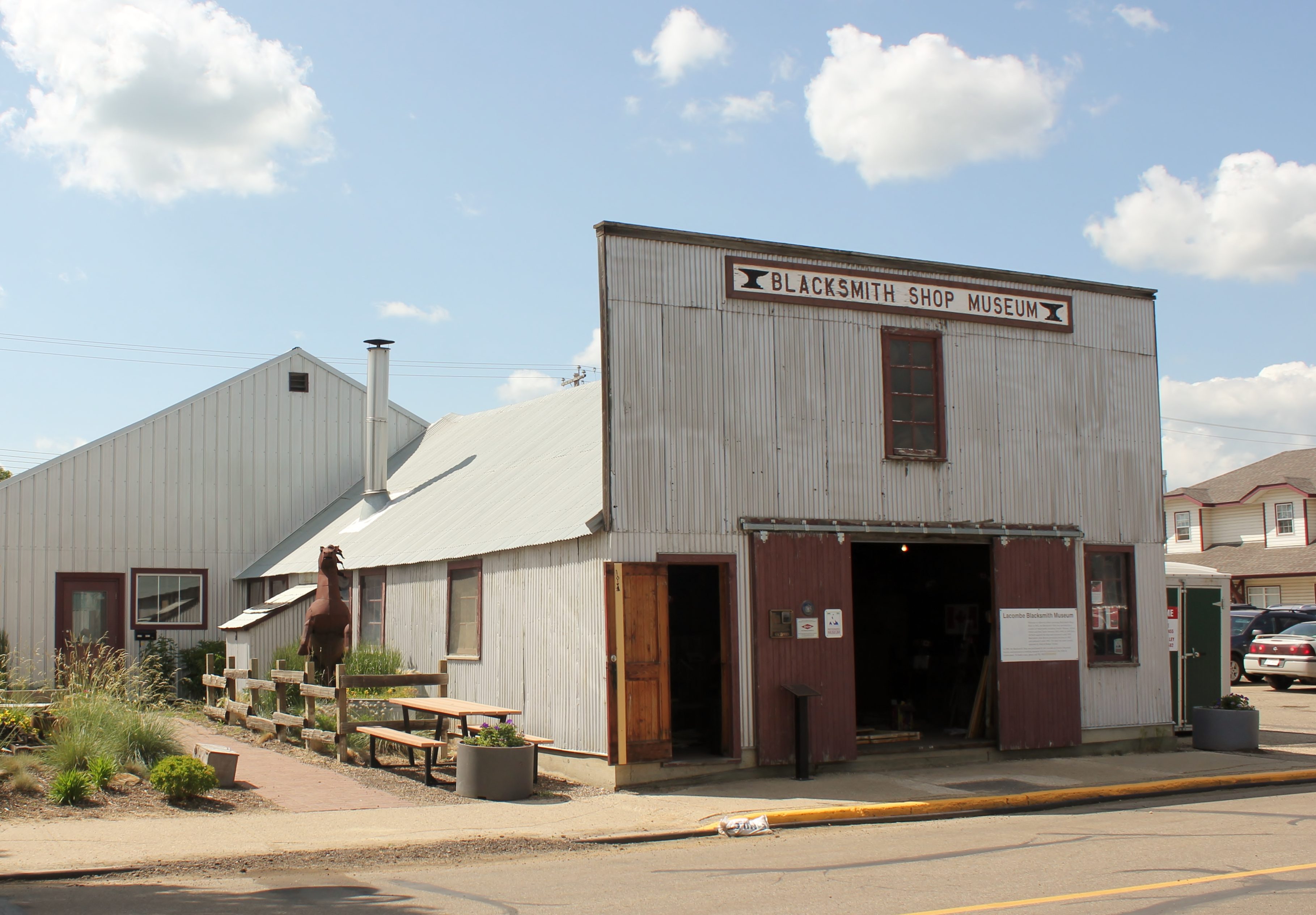 Blacksmith Shop Museum
Hours of Operation:
OPEN May 6 - September 2 2019, Wednesdays to Sundays 10:00 am - 5:00 pm + Holiday Mondays
CLOSED September 3 - April 30
Location:
5020-49th Street (Glass Street)
Lacombe, AB
Contact:
403-782-3933
The Museum
Built in 1902, the Blacksmith Shop Museum is the oldest operational Blacksmith Shop in Alberta today. It is still located on the original site. Much of the original machinery in the blacksmith shop is in operating condition.

The Blacksmith shop was often a hub of activity back when horses and carriages ruled the road. Come see how iron is bent and formed into shapes through intense heat and loud triphammers (cover your ears) and learn about the history and politics of blacksmithing in Lacombe.

Purchased by the Lacombe and District Historical Society in 1991, the blacksmith shop was restored as a museum.

The Lacombe Blacksmith Shop was designated as a Provincial Historic Resource by the Government of Alberta in 2011.
---
Space Rental
---
Our meeting room in the historic Flatiron Building basement can be booked for meetings and events.
Please call (403) 782-1046 for more information.
---